Tesla Premium Pre-Owned Vehicles Available at Clement in Missouri
Welcome to Clement Pre-Owned dealership, your destination for premium pre-owned Tesla vehicles in Missouri. If you're on the hunt for a bargain of a reliable Tesla model, you've arrived at the perfect place.
Tesla: Pioneers of Electric Excellence
Tesla, a name synonymous with innovation in the electric vehicle world, has revolutionized the way we view sustainable mobility. Founded in 2003, Tesla, Inc., originally known as Tesla Motors, has a mission to accelerate the world's transition to sustainable energy, and it has been a pioneer in electric vehicle technology and innovation.
Tesla's early successes included the production of the Tesla Roadster, the first electric sports car with a significant range, which was introduced in 2008. This achievement marked a turning point in the electric vehicle market, demonstrating that electric cars could be both high-performing and environmentally friendly. Subsequently, Tesla expanded its lineup to include very popular autos like the Model S, Model 3, Model X, and Model Y, all known for their cutting-edge technology, impressive performance, and commitment to sustainability.
Tesla's innovations extend beyond electric vehicles, encompassing supercharging stations that expedite charging, solar roofs that harness renewable energy, Powerwall for home energy storage, and Megapack for large-scale energy storage solutions. The company's principles of uncompromising quality and continuous improvement underscore its position as a leader in the automotive industry, redefining not just the way we drive but our approach to the environment and the future.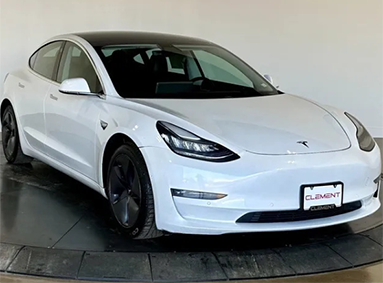 Explore Tesla Models
Below we present prominent Tesla models:
Tesla Model 3: Automotive Brilliance
Designed for innovators and tech enthusiasts, the Model 3 is not just a car; it's an evolving masterpiece.  Beyond impeccable safety credentials with a 5-star NHTSA rating and IIHS Top Safety Pick+, the Model 3 is a game-changer. Picture a fully electric vehicle with a 333-mile range, a minimalist interior featuring a 15-inch touchscreen, and an all-glass roof for an unmatched driving experience.
The 15-inch touchscreen continually improves with software updates, enhancing features and functionality. Tesla's advanced Autopilot features, from Navigate on Autopilot to Autopark, elevate your driving experience.
For those who crave speed, the Model 3 accelerates from 0-60 mph in 3.1 seconds with an optional Performance upgrade. With dual motors for All-Wheel Drive precision, the Model 3 embodies automotive innovation. 
Tesla Model S: Future-Forward Interior
Step into the future with the Tesla Model S, featuring a 17-inch touchscreen for gaming and movies. The Yoke Steering offers a true connection to the Model S with an improved steering feel. Redesigned second-row seating provides space for three adults with a stowable armrest featuring integrated storage and wireless charging. Enjoy console-grade gaming with up to 10 teraflops of processing power.
Crafting the perfect environment, hidden air vents, tri-zone temperature controls, and a 22-speaker audio system delivers an immersive experience. The Model S Plaid boasts the quickest acceleration of any production vehicle. Its electric powertrain and Dual Motor All-Wheel Drive offer unparalleled performance, range, and efficiency.
With a drag coefficient of .208 Cd, the Tesla Model S is the most aerodynamic production car. Refined styling, staggered performance wheels, and optimized aerodynamics make it a high-performance icon. Travel anywhere with up to 405 miles of estimated range and access to the world's largest fast-charging network.
The Model S has been declared Motor Trend's 2013 Car of the Year, a highly prestigious accolade within the automotive sector. Model S secured a unanimous vote from both the Motor Trend judges and their guest judges, which marked the first instance in Motor Trend's history where every judge reached an unanimous consensus. 
Tesla Model X: SUV Performance Redefined
Experience the epitome of SUV performance with the Tesla Model X, featuring the most power and quickest acceleration. The updated battery architecture ensures consistent performance for both Long Range and Plaid configurations, even during back-to-back track runs. The Model X platform integrates powertrain and battery technologies for unrivalled performance and efficiency, with a Dual Motor All-Wheel Drive delivering exceptional power and range.
Designed for utility, the Model X boasts ample storage, 5,000 lbs of towing capacity, and Falcon Wing rear doors for easy loading. With a drag coefficient of just .24 Cd, it's the most aerodynamic production SUV, providing an extended range, sharper handling, and superior ride comfort. Performance wheels and tires keep the SUV planted, maximizing power transfer to the road.
The Model X's iconic exterior design, coupled with up to 348 miles of estimated range, ensures you spend less time charging and more time on the road. Safety is a priority, with a high-strength architecture and standard Tesla safety features, including Automatic Emergency Braking.
360° cameras and Tesla Vision technology enhance visibility and safety, detecting nearby cars and aiding in parking. Autopilot capabilities enable the car to steer, accelerate, and brake automatically within its lane, making driving less burdensome. 
Tesla Model Y: Versatile Safety
Achieving a 5-star NHTSA safety rating and earning the IIHS Top Safety Pick+, this electric SUV ensures top-notch crashworthiness. With the flexibility to carry seven passengers and their cargo, the Model Y offers storage options with independently folding second-row seats.
Equipped with Tesla All-Wheel Drive and ultra-responsive electric motors, the Model Y delivers superior handling in various conditions.  The Model Y features a 15-inch touchscreen display that improves over time through over-the-air software updates. Its interior includes an expansive Glass Roof for a panoramic view, an immersive sound system, and a quiet ride with layers of acoustic glass. Based on JATO data, the Tesla Model Y claimed the title of the top-selling car worldwide in the first quarter of 2023. Experience safety, versatility, and innovation seamlessly integrated into the Tesla Model Y. 
If you want to explore more options for electric cars, you can read our article on the best electric cars
Why Choose Clement Pre-Owned, MO for Your Tesla Purchase?
Diverse Inventory
Our extensive inventory of pre-owned Tesla vehicles caters to various preferences and budgets of Missouri citizens, and we can organize the delivery to the neighboring US states. Transparent policy and competitive prices are among the company benefits. To check the actual situation on the market, we recommend referring to the black book car value. Whether you're eyeing an almost-new Tesla or an affordable electric car, we have the perfect match for you at our wide car lot in Florissant and St.Charles. Our team is dedicated to helping you discover the ideal pre-owned Tesla. Experience the Tesla difference at Clement Pre-Owned today.